The recording industry wants to sue its customers into submission.
America's music fans have a more constructive idea.
The Digital Age is an exciting but challenging time. How can musical artists and fans apply the Internet towards making America a better place to make music and other creative content? See how it works
here
.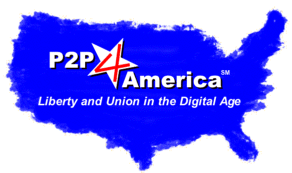 Fewer young adults are voting.
People are fed up with a polarized Congress that caters more to special interests than voters.
Does the Digital Age offer new opportunities for innovation as part of the American Experiment to help us form a more perfect Union? Do we witness signs now and then of that sustainable rebirth of freedom so vital to the notion of government of the people, by the people, for the people? We take a closer look
here
.
Could there possibly be some sort of connection between "Copyright chaos" and our Congressional polarization?
You can tell a lot about a society by how it treats the expression of its ideas.
We explore this theme more
here
.
P2P for America is a nonprofit, nonpartisan educational organization. We do not support or oppose any political party or candidate.

The P2P for America website is licensed under a Creative Commons Attribution 3.0 Unported License.